The ELI Conversation Partner Program matches English speaking UMBC students, faculty and staff with ELI students. The program promotes cultural exchange, international friendship, and language learning.
ELI students and UMBC volunteers meet for 1 hour once a week for informal conversation and often attend events on campus or spend time bonding off campus. The Conversation Partner Program opens up unique opportunities for both participants to learn and grow as individuals.
The Process:
Interested ELI students and volunteers apply online (see below).
ELI students and volunteers each attend separate orientations and sign a sexual harassment training contract.
The ELI staff matches students and volunteers based on availability, interests and gender (if preferable).
Partners begin meeting independently. If any issues or concerns arise that cannot be settled between the partners, please contact the ELI immediately with any issues or concerns.
ELI students and volunteers meet together at the ELI Conversation Partners Meet & Greet Social Event (Free Pizza!)
The Conversation Partner Program has many benefits for both ELI students and UMBC volunteers.
Global Conversation Cafe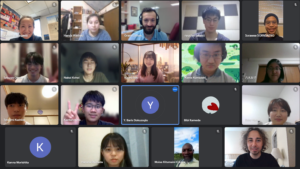 (NOTE: UMBC ELI intercultural Exchange Conversation Cafe is offered online as of Summer 2020)
The Global Conversation Cafe gives you a place where you can speak weekly with people from around the world who love cultural exchange and meet new friends. For non-English speakers, it is also a special place for practicing to learn practical English through fun topics and activities. English conversation in a group setting requires a set of special skills different from a one-on-one setting.
ELI students sign in upon arrival and then break into conversation groups. Snacks, games, and ice-breaker activities are provided and then groups are left to freely converse in an informal atmosphere. Conversation Cafe meets once a week during the semester in the afternoon.
There is no application process for ELI students and alumni to join the Global Conversation Cafe.
Those who are not ELI students/alumni but would like to practice English at our Cafe need to become a Global Conversation Cafe member. With this membership fee, you can attend the Cafe every week until the end of the semester you are enrolled in. The membership fee is approximately equal to $3 per session. To apply to become a member: https://www.enrole.com/umbc/jsp/index.jsp?categoryId=91E646B8 (and scroll down to find "Global Conversation Cafe").

Once in a while, the UMBC ELI offers a FREE one-time special participation opportunity to our social media followers. Seats are limited. When we receive a larger number of applications, we will randomly choose participants.
For more information, please check at the ELI front desk (Room# 207 on the 2nd floor, University Center Building; eli@umbc.edu; 410-455-2831).
ELI students have a unique opportunity to use the language they learn inside the classroom in an authentic context. By meeting regularly with a conversation partner, ELI students are likely to experience great improvements with their listening and speaking skills.
UMBC volunteers will have a rare opportunity to meet an individual from another culture and to experience a unique perspective of the world they live in. This will enhance their cultural understanding and open up new horizons of interest. Often, volunteers and ELI students form lasting relationships, and some volunteers even visit their new friends in their home countries!